About the Advisor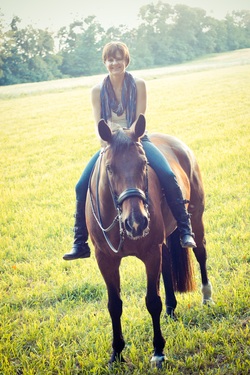 Photo credit: David Lawrence
The Equestrian College Advisor is Randi C. Heathman, an educational consultant with more than a decade of experience in higher education and a lifetime of involvement with equestrian sports.
Heathman holds a B.A. in English and an M.A. in communication studies. She honed her craft as senior assistant director of admission at Albion College while working extensively with their equestrian program as both a recruiter and as a mentor to the riders on the team, traveling to shows and advising the campus equestrian club.

In fact, Heathman was an integral part of the creation of the riding program at Albion, as its roots stem from her undergraduate Honors thesis, Enhancing Education through Equitation: A Promotional Plan for an Equestrian Facility at Albion College. During her tenure, she gained valuable experience in guiding students and families through the search, application, and financial aid process all while she also gained an inside look at the expanding world of intercollegiate riding.

Today, those experiences - as well as the connections she forged with coaches and personnel at colleges and universities across the country - form the foundation of her practice.

Heathman is the only independent educational consultant who includes both enrollment and intercollegiate equestrian program experience on her resume. She maintains the highest standards of ethics and professionalism as a professional member of the Independent Educational Consultants Association (IECA), the Higher Education Consultants Association (HECA), and the National Association for College Admission Counseling (NACAC). In addition, she travels to dozens of college campuses, educational workshops, and equestrian recruiting events each year to expand her knowledge and keep current with ever-changing admission practices and trends.
A lifelong horsewoman, Heathman is a member of the United States Equestrian Federation (USEF) and the United States Dressage Federation (USDF). Growing up, she competed in a variety of disciplines before concentrating her efforts on dressage. In 2009, she and her Dutch Warmblood gelding Ricochet were named GAIG/USDF Regional Champions at second level in the adult amateur division. Today, she is a USDF bronze and silver medalist and active competitor at the FEI level.

A popular speaker on topics ranging from the college search to equine careers, she has spoken annually at the College Preparatory Invitational Horse Show in Wellington, FL since 2013. In 2014, Randi published her debut book, Horses for Courses: The Definitive Guidebook for the Prospective College Equestrian and in 2015, she contributed to the IEA magazine Take the Reins, the NRHA member publication NRHA Reiner, and was a featured speaker at the inaugural Junior Equestrian Festival in Connecticut. Most recently, she was interviewed for a college search piece in the January 2016 issue of Equine Journal, spoke with Southern Horse Talk about college riding in an online interview, and presented with colleagues at the 2016 IECA conference in Boston on the topic of professional networking for IECs.

To keep up with current events, travels, and college admission trends, follow Randi on
Twitter, like her Facebook page, or read her blog.
---