The college search is different for everyone. It isn't enough, however, to search simply for equestrian options and omit important academic, social, and financial considerations. Finding the right college fit - much like purchasing the right horse - is often more art than science. The first step is to find out exactly what support and assistance your student needs.

Through phone, Face Time, and/or Skype conversations, personal meetings (when possible), and email/text interactions, Randi will learn about your student, his or her strengths and weaknesses, and goals for the future. In return, she will work with your son or daughter to develop a list of potential colleges and universities that outline a bright path for the future.


Recommended Reading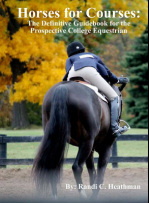 Randi's debut college guide,
Horses for Courses: The Definitive Guidebook for the Prospective College Equestrian
is available in paperback and for Amazon Kindle. The book was written as a step-by-step introduction to the college search that can walk students and their families through the list development and selection process - all while keeping the student's equestrian goals in sight. With Randi's background in college admissions and experience with college equestrian programs, this insider's guide can help families navigate the process from start to finish.
Buy Now
---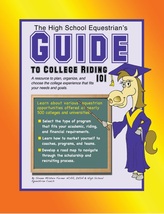 For prospective collegiate equestrians, Sloane Milstein of
College Riding 101
has written a tremendous guide to help students find the right college program. The book is filled with information about intercollegiate riding opportunities, in-depth worksheets for self-assessment, and lists of colleges and universities in the United States that offer equestrian teams and opportunities.
Buy Now
For the purchase of either or both books, a new (secure) window will open for payment.
---
The advantages to working with an educational consultant are distinctive:
Access to consultants goes beyond school hours.
Educational consultants stay current on all issues regarding higher education and visit dozens of campuses annually. (They are students of colleges, constantly studying!)
Consultants network extensively - when you hire one, you gain access to over 3,000 additional consultants worldwide!